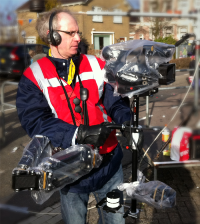 Uw videopresentatie wordt, na de opnamen met, professionele montage apparatuur gemonteerd en nabewerkt.
De video's worden veelal 'file based' geleverd. Dat wil zeggen dat de eindmontage als een los bestand naar u wordt gestuurd via internet.
Maar u kunt er ook voor kiezen deze op Blu-Ray of DVD te laten zetten. Ook kan UMP de video geschikt maken voor YouTube, Vimeo, Ustream, of ander formaat.
Daarnaast kan het eindresultaat zo geleverd worden zodat deze op een laptop, iPad of android afgespeeld kan worden voor bijvoorbeeld een presentatie.
Kies voor Uri Media Productions voor een betaalbare en goede presentatie.
Vraag vrijblijvend informatie aan door een mail te sturen aan:

of bel: 06-29053889